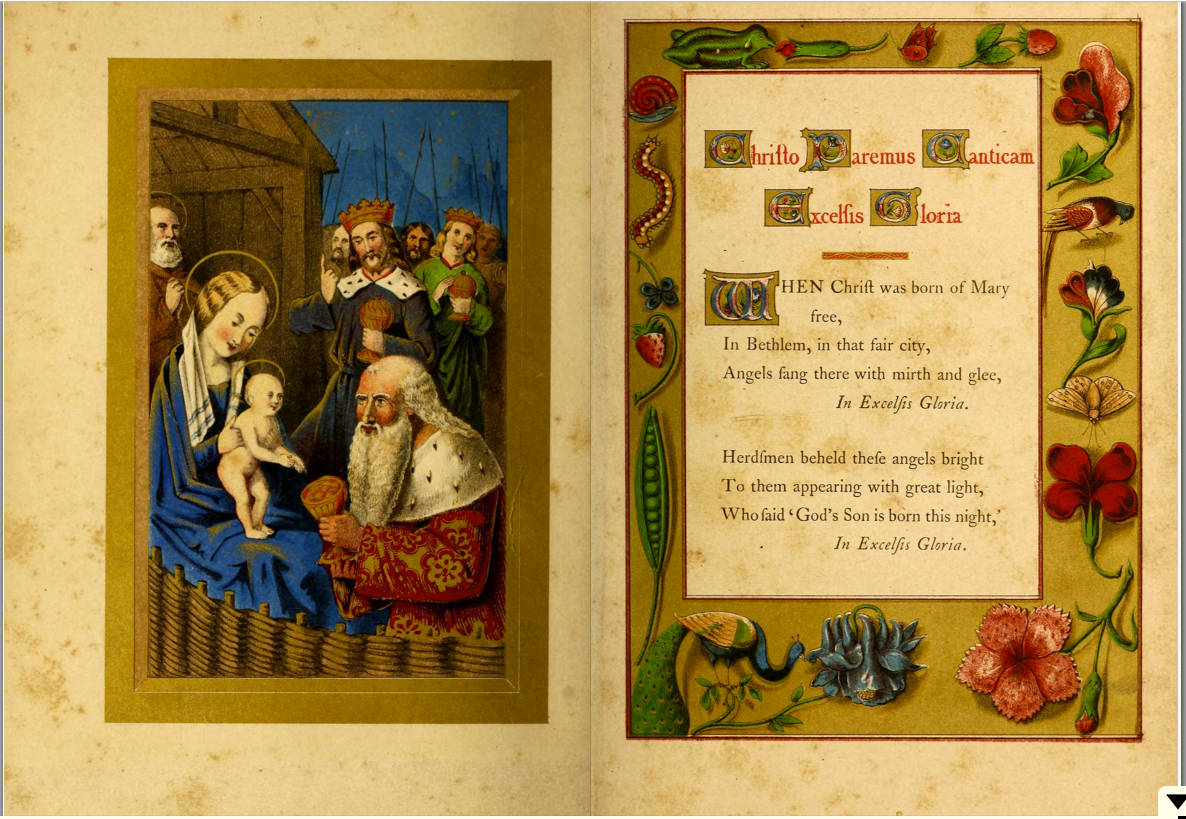 Recto 3, 19 x 13.5 cm. Christo Paremus Canticam Excelsis Gloria from A Book of Christmas Carols Illuminated from Ancient Manuscripts in the British Museum (1845) Drawings and Lithography: John Brandard. Chromolithography: M. & N. Hanhart. This item was catalogue no. 25 in Beckwith, Victorian Bibliomania (1987) [Click on images to enlarge them.]
Commentary by Alice H. R. H. Beckwith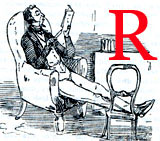 ealizing that Christmas gift giving provided a market for illuminated books, the enterprising young publisher Joseph Cundall brought out the first chromolithographed book of Christmas carols in 1845, just four years after chromolithographed illuminated texts appeared (cat. 27). Cundall appealed to his readers' bibliomania and their hunger for history and the sacred by announcing that his carols were taken from ancient manuscripts in the British Museum. He even gave the call numbers of volumes used for the borders and four miniatures in his book. These songs are not sacred literature, although their themes are dependent on Christian texts.
Ruari McLean has traced Cundall's remarkable career, showing that he was frequently at the forefront of book design in both form and method. At age sixteen he arrived in London and went to work for Charles Tilt (cat. 24), a well-known book-seller and publisher (McLean, Cundall i). Tilt published Cundall's first book six years later under the pseudonym "Stephen Percy." Tales of the Kings of England: Stories of Camps and Battle Fields, Wars and Victiories from the Old Historians shows Cundall's early interest in manuscripts and historical chronicles (cats. 62-66). His Robin Hood and His Merry Foresters, published the following year. was perhaps the book that drew Henry Cole's attention, for soon afterwards Cole gave Cundall the commission to publish The Home Treasury. This was a series Cole hoped would reform the intellectual and visual quality of children's books. Cundall's interest in young readers was enduring: by 1841 he took over the Juvenile Library and eventually ran a lending library for children called St. George's Reading Library (McLean 4, 14). The Booke of Christmas Carols would have appealed to children and adults alike.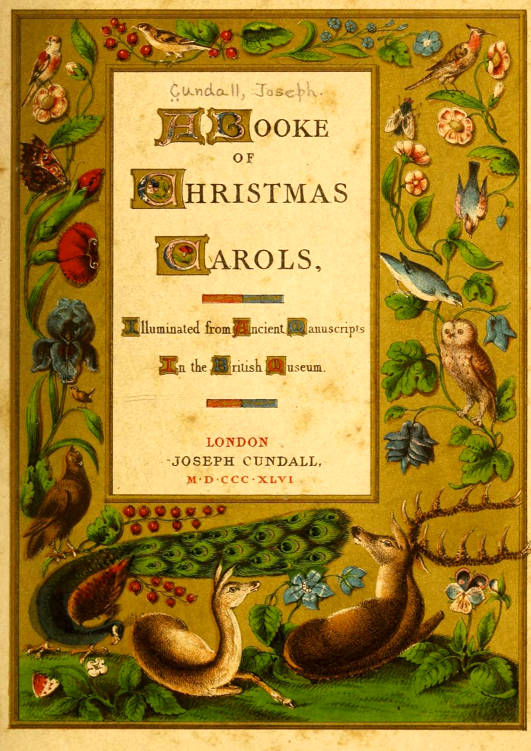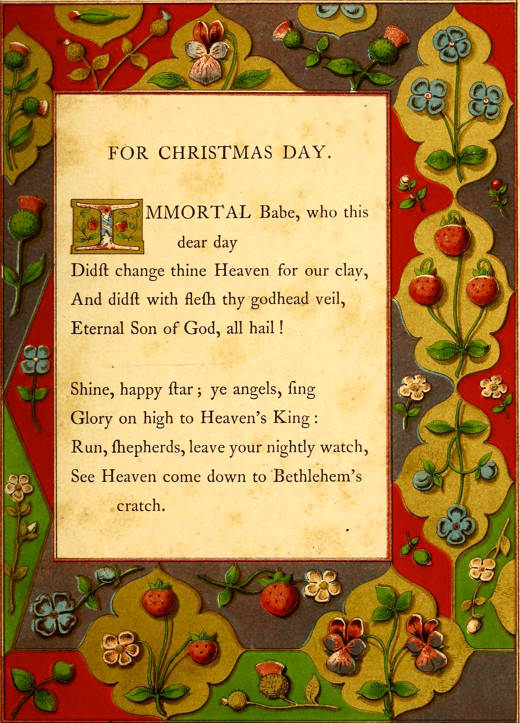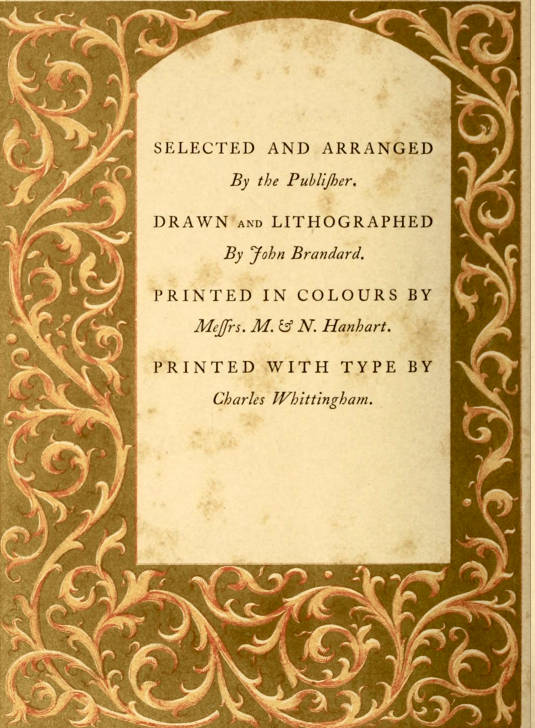 Left to right: (a) Title-page. (b) For Christmas Day. Colophon
Cundall's Christmas Carols has some flaws, but it is a good example of the best work being done in 1845. Adding an "e" to Book in the title is an historical affectation, and John Brandard's drawing of the borders in the present page is on occasion clumsy. Furthermore, one suspects that the naturalism of the flora and fauna dropped on a solid border was just the sort of copying of late fifteenth-century manuscripts that Owen Jones and John Ruskin criticized. However, Cundall understood the placement of the text block in manuscript practice, and Michael and Nicholas Hanhart's chromolithography was among the best color printing at that date (Wakeman 53). Cundall's selection of Charles Whittingham the younger as letterpress printer reveals a sharp eye for a well-presented page. Whittingham printed all the books in the Home Treasury series and a large number of Cundall's other books (McLean appendix). themes are dependent on Christian texts.
Cundall's interest in experimentation as well as tradition is suggested by the history of the covers of A Booke of Christmas Carols, which appeared in at least tour publishers' bindings (McLean 16). The Morris Collection copy introduces another variant done in a bespoke binding by James Hayday. Hayday, like J. Wright (cat. 62) was a hand binder who persevered during the competitive period following the advent of machine-produced publishers' bindings. We know that between 1837 and 1838 Hayday employed thirty to forty workmen (McLean, Victorian Book Design, 224). Apparently Hayday met the crisis by adopting some of the standardized methods of his competitors. Characteristically, his bindings were of brown leather with a surface embossed in rectangular geometric patterns similar to Tudor wainscoting. These simple but elegant bindings hold their own against the color and variety of the machine-made publishers' bindings, until Hayday went bankrupt in 1861.
You may use this image without prior permission for any scholarly or educational purpose as long as you (1) credit the Internet Archive and the Library of Congress and (2) link your document to this URL in a web document or cite the Victorian Web in a print one.]
References
Beckwith, Alice H. R. H. Victorian Bibliomania: The Illuminated Book in Nineteenth-Century Britain. Exhibition catalogue. Providence. Rhode Island: Museum of Art, Rhode Island School of Design, 1987.
Cundall, Joseph, ed. A Book of Christmas Carols Illuminated from Ancient Manuscripts in the British Museum. London: Joseph Cundall, 1845. Drawings and Lithography: John Brandard. Chromolithography: M. & N. Hanhart. Letterpress: Charles Whittingham the Younger at the Chiswick Press. Binder: Hayday. Internet Archive version of a copy in the Library of Congress. Web. 26 December 2013.
---
Last modified 26 December 2013