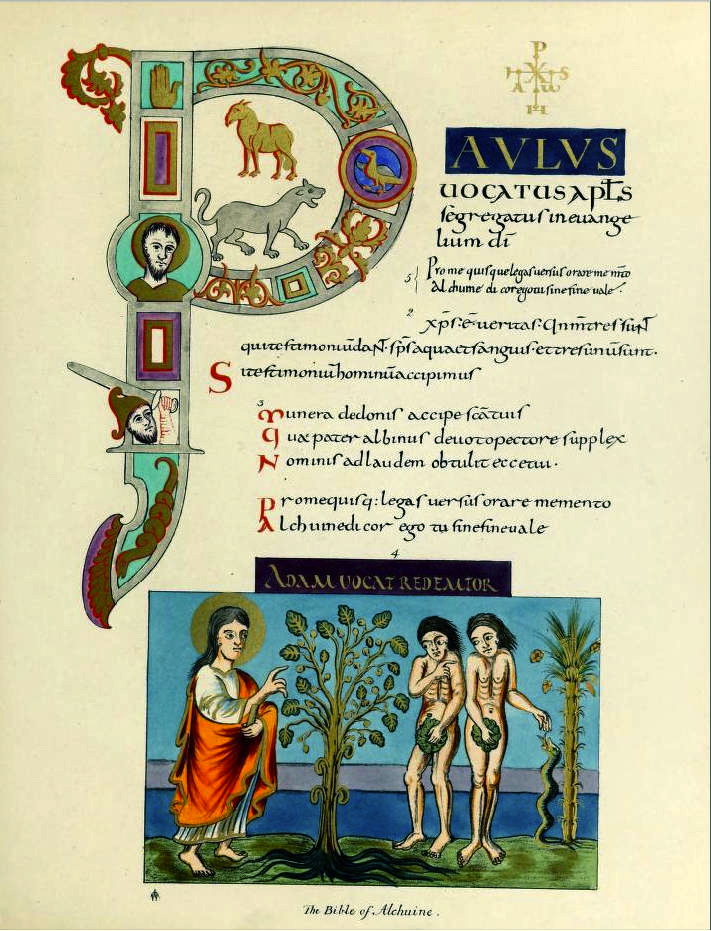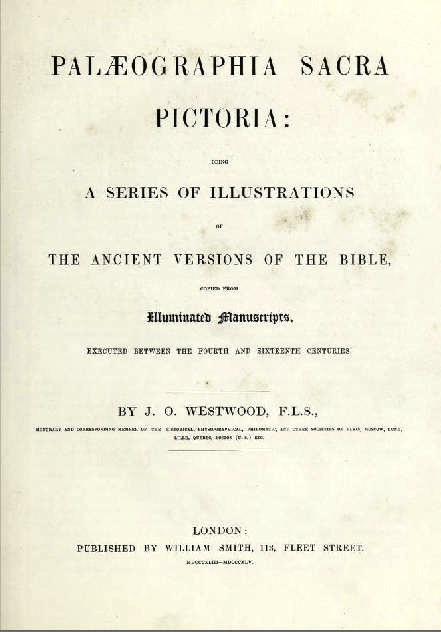 Plate 25 and the title-page from Paleographia Sacra Pictoria. John Obadiah Westwood, Editor and illustrator. 1843-45. 32 x 26 cm. This item was catalogue no. 15 in Beckwith, Victorian Bibliomania (1987) [Click on images to enlarge them.]
Commentary by Alice H. R. H. Beckwith

aleographia Sacra Pictoria; contains the first generally circulated reproductions of ornament from the Book of Kells (Larmour, l). A pioneer in organizing the study of paleography so as to identify national schools of writing, particularly that of Britain, Westwood also deserves credit for the quality of his plates (Munby, 143, 144). His book appeared ten years after Henry Shaw and Frederic Madden's popular Illuminated Ornaments (cat. 14), but Westwood differed from his predecessors by changing the chronological boundaries of his sources to the fourth through sixteenth centuries and excluding printed books. His title, which means "holy picture writing," defines his focus on hand-written sacred texts, while a Protestant bias informs his observations about manuscript illuminators in Ireland, whose works, he said, proved that there was a Christian church independent of Rome in existence at a very early date in the British Isles. Westwood's Protestant bent is even more pronounced in his second book about manuscript illumination, Illuminated Illustrations from the Bible Copied from Selected Manuscripts of the Middle Ages (1846). In the introduction to that volume he informed his readers that he only illustrated subjects from the Bible and left out "compositions devoted to the Virgin Mary and legends of the church."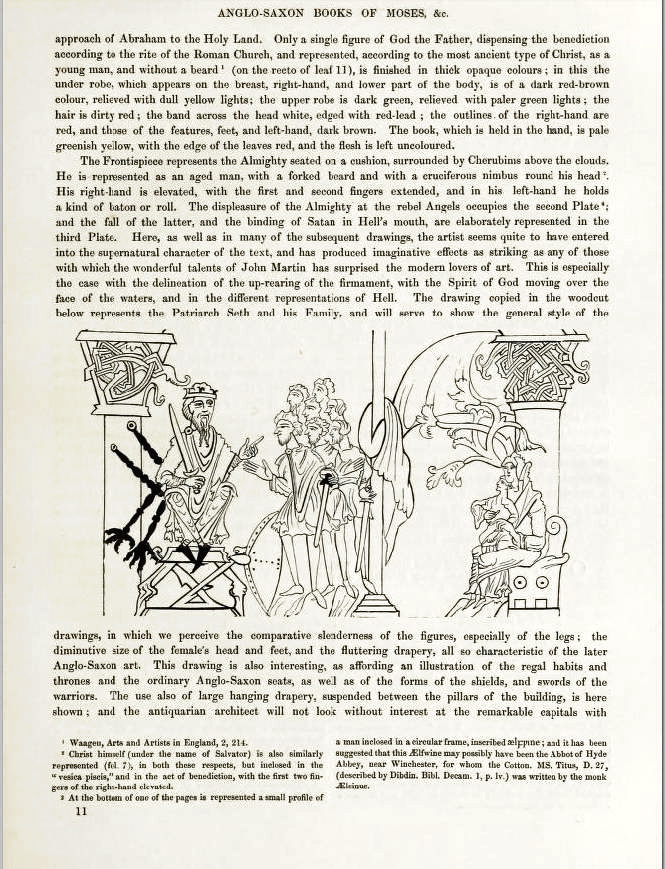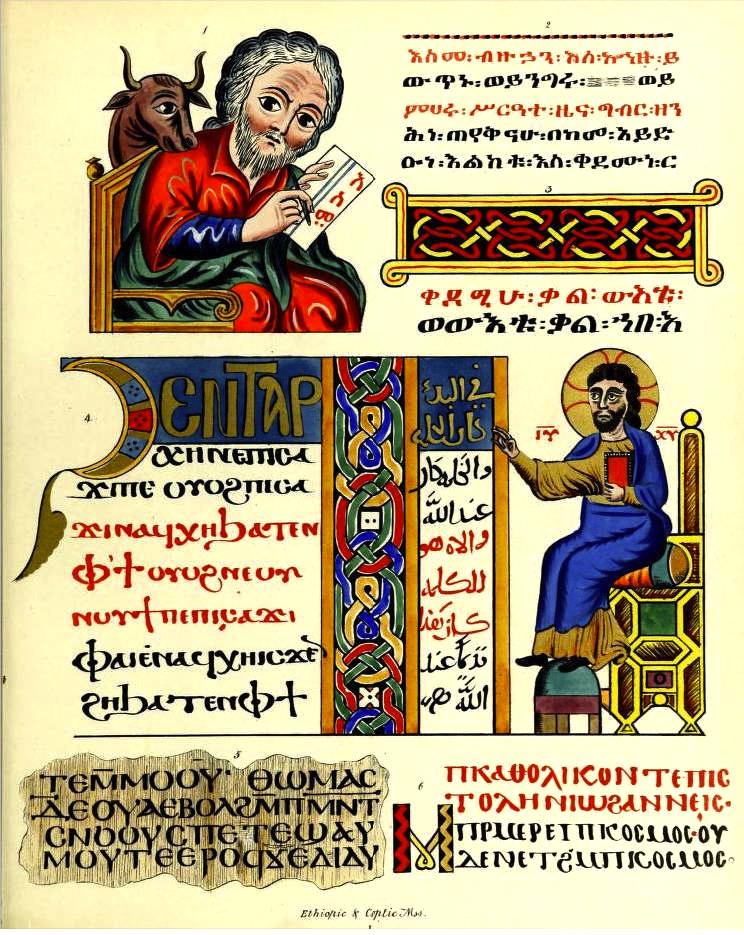 Left: Seth and His Family, a woodcut copy of an Anglo-Saxon illumination. Right: An Ethiopian Coptic manuscript.
His training as an entomologist and his familarity with the Linnaean classification system undoubtedly served Westwood in his organization of ancient Anglo-Saxon manuscripts and stone inscriptions. He wrote over 350 papers on archaeology and entomology, becoming the first Hope Professor of invertebrate zoology at Oxford in 1861. At Oxford he was a close friend of John Ruskin during the 1870s and '80s. Ruskin referred to him in his lectures and discussed one of Westwood's facsimiles of an illuminated manuscript (Ruskin. 30.453, 495).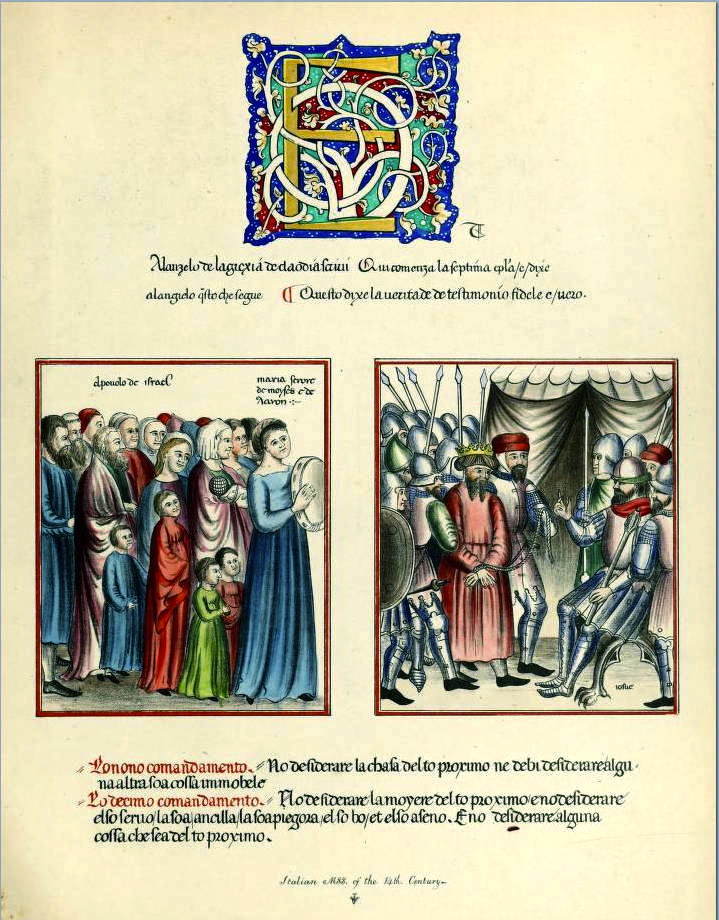 Left: The Gospels of St. Augustine and Cuthbert. Right: Julian manuscript of the fourteenth century.
Westwood illustrated his entomological texts (images) well as his histories of illumination with chromolithographed plates. While working on the Paleographia, Westwood brought out his second book on British butterflies and moths with plates by Henry Noel Humphreys. Humphreys may have been involved in printing the plates in the Paleographia, but they are signed only with Westwood's JOW monogram, which is visible beneath the Adam and Eve miniature illustrated here (top row left). A second important Victorian chromolithographer, Owen Jones, recognized Westwood as the greatest living authority on Hiberno-Saxon ornament, and had him write the text about Celtic design in The Grammar of Ornament (cat. 47).
Although he discussed and illustrated Hebrew, Greek, Latin, and Oriental versions of Biblical texts in Paleographia, Westwood saw his primary role as providing "more extended illustration of British paleographic monuments to give national character to the book." His descriptions are scholarly and he cites the works of the Britons, Astle, Shaw, and Dibdin, as well as referring to the important French paleographers D'Agincourt, Bastard, Silvestre, and Champollion.
Plate 25 shows the same fragmentary presentation that characterized Shaw and Madden's Illuminated Ornaments, except that Westwood displays more examples, including an illuminated initial P and a miniature of God accusing Adam and Eve, as well as four scribal texts. The miniature is identified as being from "Alchuine's Bible," an English citation. Alchuin, the British scholar from York Cathedral School, was at the center of Charlemagne's Carolingian Revival in the eighth century. He met the French king in Italy in 780 and was at Charlemagne's court in Aachen from 781 to 790, and then at the Abbey of St. Martin at Tours from about 794 until his death in 804. Besides teaching and writing guides for his students, Alchuin is credited with revising the Latin text of the Bible. He had numerous manuscripts copied for study in the hand known as Carolingian minuscule, based on ancient Roman letters, examples of which arc displayed on Westwood's "Alchuine" page. Westwood's book appealed to a wide audience; his reproduction of the written texts satisfied scholars, and the colorful miniatures and initial letters attracted general readers.
You may use these images without prior permission for any scholarly or educational purpose as long as you (1) credit the Internet Archive and the Brigham Young University Library and (2) link your document to this URL in a web document or cite the Victorian Web in a print one.]
References
Beckwith, Alice H. R. H. Victorian Bibliomania: The Illuminated Book in Nineteenth-Century Britain. Exhibition catalogue. Providence. Rhode Island: Museum of Art, Rhode Island School of Design, 1987.
Westwood, John Obadiah. Paleographia Sacra Pictoria: Being a Series of Illustrations of the Ancient Versions of the Bible Copies from Illuminated Manuscripts Executed between The Fourth and Sixteen Centuries. London: William Smith, 1843-1845. Printer: Bradbury and Evans. Illustrator: John Obadiah Westwood. Internet Archive version of a copy in the Brigham Young University Library. Web. 26 December 2013. [The 1987 exhibition included a copy of this work from the Updike Collection of Books on Printing, Providence Public Library.]
---
Last modified 27 December 2013