Want to know how to navigate the Victorian Web? Click here.
Filomena opens her "Ladies's Page" column for October 1902 by praising turn-of-the-century women's clothing for being so much more sensible and healthy than were the fashions of the eighteenth- and nineteenth-centuries. But even a quick glance at the illustrations of wasp-waist outfits that accompany her column, much less the undergarments required to be able to wear them, make her remarks seem paradoxical. Does "Filomena" only mean that corsets that create tiny, unnaturally small waists, such as the one pictured below, are comparatively healthier than earlier corsetry that constricted a woman from armpit to hips, or does she accept that undergarments advertised in 1902 are themselves perfectly healthy? Given the puffery for costume jewelry sold by a particular London firm that follows this discussion in her column, it is certainly possible that "Filomena" refrains from criticizing firms that advertise in Illustrated London News.
Three other points from the October "Ladies's Page": The author's connection between women's health and what they wear shows the effect, perhaps the appropriation, of once-unpopular Victorian campaigns for dress reform, such as those made by the Pre-Raphaelites and Aesthetes, and it also shows the idealization of Greek and Roman costume made familiar from the paintings of Alma-Tadema, Leighton, and others. Oh yes, who made women wear such unhealthily constructing dresses and undergarments? "Filomena" argues that it's all men's fault. — George P. Landow
There has been a good deal of blowing of trumpets at the annual meeting of the Sanitary Association, the credit of the lessened national death-rate being claimed for the workers in that association's ranks; and, of course, the medical officer of health has a right to much of the praise. But it is not to be forgotten alsothat much of the improve- ment is due to the better habits of the people themselves. Take women in particular: their dress nowadays is more sensible than it has been since the old Greek and Roman days; and we indulge in those vigorous sports that take us into the open air and conduce to health so immensely, as the modern treatment for consumption has indicated. With regard to our costume, small waists and all other distortions are out of fashion, and dress is protective, and save for the troublesome long skirts, which are eminently unsuitable for walking, there is no detail in which it can he complained about. Early in the last century, women were wearing low sandalled shoes so flimsy and cut down that a shower of rain reduced them to pulp, and a mud-puddle was apt to pull them off. They wore "new Greek" gowns cut to fit as close as possible to the figure, and low at the neck; some especially silly damsels used to damp their clothes so that the figure might be more closely outlined. Then came a period of wasp-waists. After that, about the middle of the century, little girls were not allowed any sleeves in their everyday frocks, except a puff at the shoulders, and wore low-cut necks even in winter — that one fact alone, I should think, was responsible for much of the mortality of those children, which was far larger in the middle of the nineteenth century than it is at the beginning of the twentieth. Altogether, I am disposed to think that it is in a large measure due to our own improved common-sense that we live longer than our ancestresses.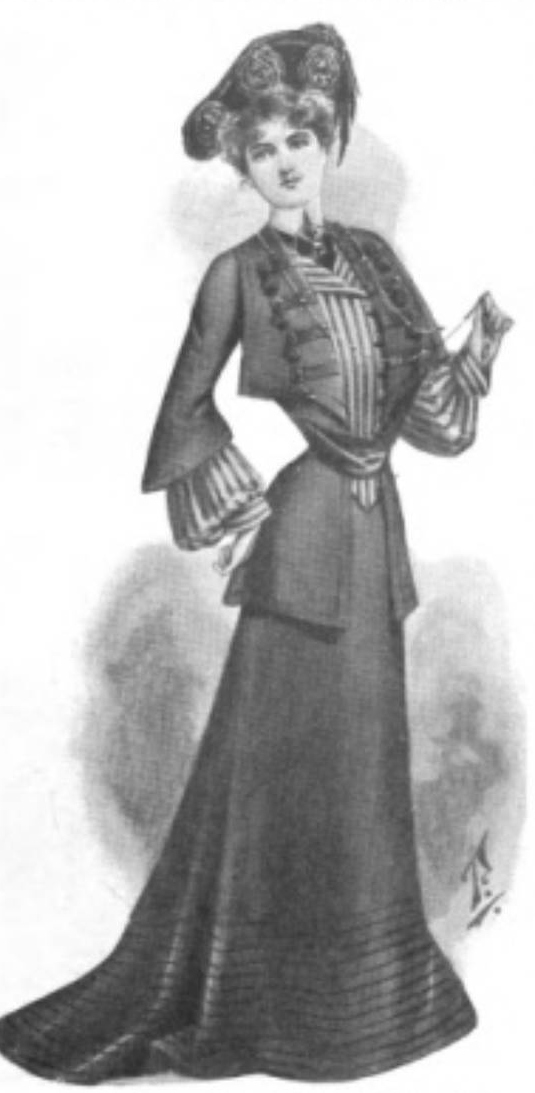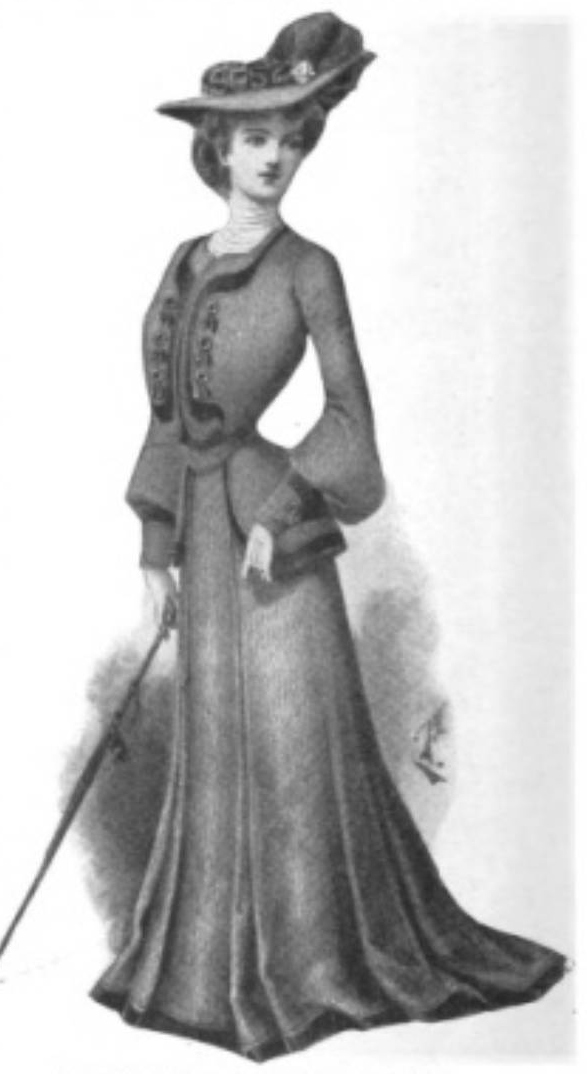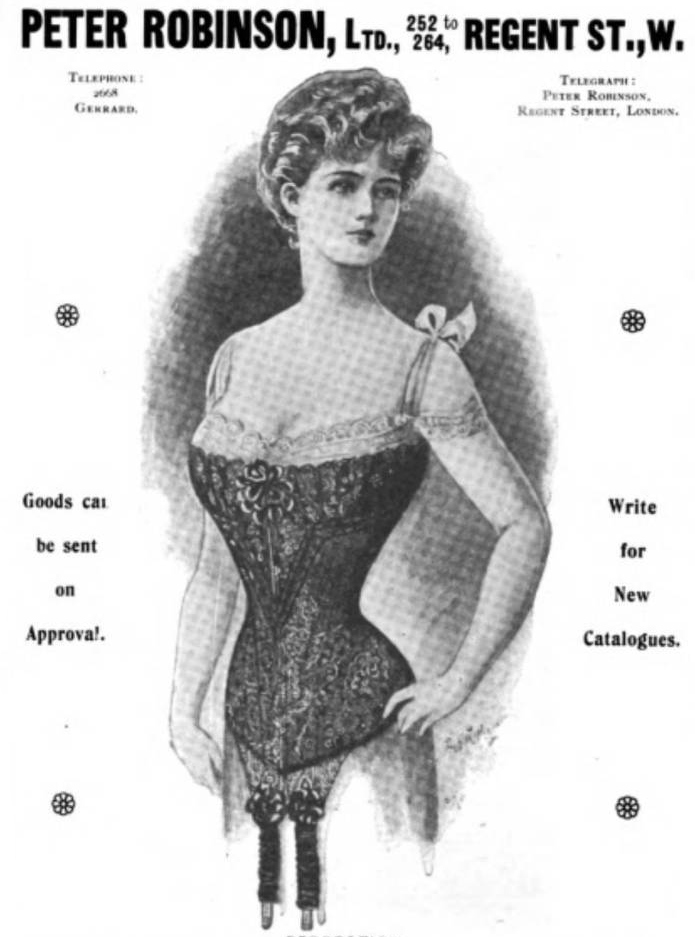 Left: A smart walking dress in dark cloth. Middle: A fancy tweed costume for Autumn. Right: Perfection. An elegant French-made corset — an advertisement for Peter Robinson, Regent Street, London.. Click on images to enlarge them. [You may use these images without prior permission for any scholarly or educational purpose as long as you (1) credit the Hathi Trust and The University of Chicago Library and (2) link your document to this URL in a web document or cite the Victorian Web in a print one. — George P. Landow]
By the way, whose fault do you think the aforesaid wasp-waists actually were — men's or women's? I notice in the recently published letters addressed to the Empress Maria Theresa of Austria, the mother of the ill-fated Marie Antoinette, by the gentleman who was sent into France with the little Princess especially to watch over her and report to the Empress on anything that seemed needful, that in those letters the gentleman again and again complains to his royal mistress that the young Princess will not wear tight stays. Her figure gives him considerable uneasiness, and the cry of despair that comes from his heart is simply and always that the Dauphiness refuses to distort her form to suit eyes falsified by fashion! Folly in dress never reached a greater height than under the rule of Louis the Sixteenth's Queen; and it is curious to discover that her natural tendency was to ease and hygiene, and that she was drilled and reproached into the abnormally long and pinched stays that her "period" of costume displays in its portraits. Then, coming down to the present, I have heard a lady who brought her girls up on hygienic principles, without corsets and with abundance of gymnastics and open-air exercise, reproached by both her husband and her brother because the girls' figures grew beautifully straight and strong, but in a natural and not distorted outline! So I fancy it is men who are responsible for this particular feminine folly; they prefer an exaggeration of the difference between the figure of the sexes in nature, and by their praise of the unnatural, and their direct, expressed dislike of the natural, they lead women into the folly of tight-lacing.
Bibliography
Filomena. "Ladies's Page." Illustrated London News. 50 (11 October 1902): 548. Hathi Trust web version of a copy in The University of Chicago Library. Web. 4 January 2016
---
Last modified 4 January 2016