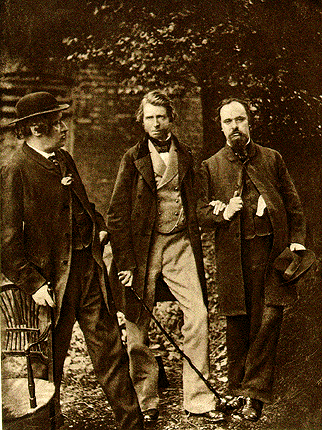 W. A. Downey's photograph of William Bell Scott, John Ruskin, and Dante Gabriel Rossetti, which is dated June 29, 1863, shows the range of clothing styles one might enocunter even among people in the same set.
Jackets and trousers: Ruskin, who throughout his life dressed in an almost agressively old-fashioned mode with a few idosyncratic touches, wears a double-breasted frock coat open to reveal trousers and a double-breasted waistcote with notched collar, both in a light color that contrasts to the outer garment. According to Joan Nunn, "The cut of men's coats through this period changed from long sloping shoulders, tight waist and rounded hip to a straighter, longer-waisted, more masculine shape, and by 1875 shoulders began to be padded much as they are today" (140). Ruskin's coat has sloping shoulders, and his trousers, which also followed older styles, flared broadly at the bottom and covered his shoes. Ruskin wears his characteristic bright blue cravat.
Scott and Rossetti, in contrast, dress much more typically (conservatively?) in matching single-breasted coats, waistcoats, and trousers in the tubular shape that became standard in the next decade.
Headwear: Scott wears a bowler, Ruskin is bareheaded, and Rossetti holds a homburg.
Footwear: Low boots with elastic sides or laces.
Source of Image: Ruskin, Works, 36.454.