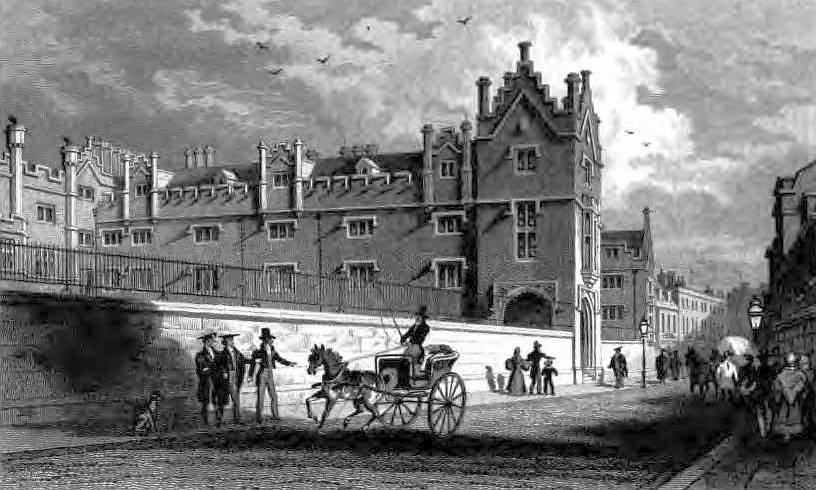 Sidney Sussex College, Cambridge, with gatehouse by Sir Jeffry Wyattville. c.1830. Sidney Street, Cambridge. Illustration taken from Keux and Cooper, facing p.8. Text by Jacqueline Banerjee.
Wyattville has been accused of having "rehashed Sidney Sussex College in Camdridge in a very crude Gothic style" (Turnor 51): Derek Linstrum mounts a partial defence, agreeing that "there is much that is clumsy in the work, but there was little money; Wyatt was undoubtedly right to use most of it in erecting the stone-faced tower in Sidney Street, which is well-placed in the Picturesque composition of the whole front as it is seen approaching the College from the town" (233). Note — the illustration above shows the building when approached from the other direction, coming into town. [Modern photograph of the view from town, © Cambridge2000.com, with thanks]
References
Keux, J. Le, "greatly enlarged" by Charles Henry Cooper. Memorials of Cambridge: Sidney College, Downing College, Parish Churches etc. Vol. 3. Cambridge: Macmillan, 1866. Available here. Viewed 24 April 2010.
Linstrum, Derek. Sir Jeffry Wyatville: Architect to the King. Oxford: Oxford University Press, 1972.
Turnor, Reginald. Nineteenth Century Architecture in Britain. London: Batsford, 1950.
---
Last modified 24 April 2010