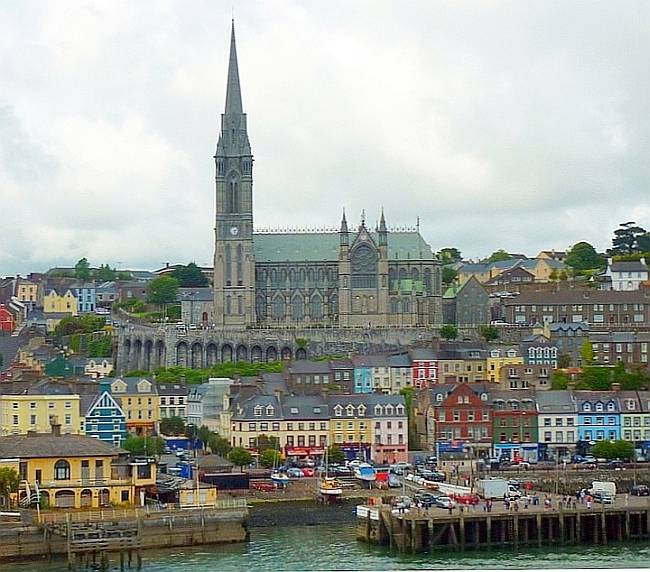 St. Colman's Cathedral by Edward Welby Pugin (1834-1875) and George Coppinger Ashlin (1837-1921). 1868-1919. Granite with Bath stone cladding. Cobh, Ireland. Photograph and text by Jacqueline Banerjee. [You may use this image without prior permission for any scholarly or educational purpose as long as you (1) credit the photographer and (2) link your document to this URL.]
Although all three of A. W. N. Pugin's sons became architects, only the eldest, Edward Welby Pugin, had anything like his father's gift (see Hill 495). With his partner Ashlin (a native of Cork, who married his sister Mary in 1867), this Pugin was busy designing and altering churches in Ireland through most of the 1860s. This French-style Gothic Revival cathedral, named after the patron saint of the diocese, was his single most important commission. He himself is credited with the general design, while Ashlin supervised the building work and decorated the interior (see Williams 73; the building of the cathedral is exceptionally well documented). The two architects split up in 1868, with Ashlin continuing with his busy Irish practice, and Pugin focusing instead on commissions in England. Ashlin entered into another partnership in 1902, with T. A. Coleman (1865-1950), a former pupil, and these two together saw through the last phase of the work on this site. The cathedral was consecrated in 1919.
St Colman's is prized for many reasons. A cathedral very much of its time, it is the masterpiece of two important architects, heavily influenced by French cathedrals like those at Amiens and Rheims. It stands in a sensational location above the terraces of colourfully-painted houses overlooking the harbour here. Inside as well, it is striking, its "spacious and unobstructed interiors, well-lit from the clerestory," and its "architectural emphasis leading the eye eastwards from the nave to the sacred sanctuary area, terminated by an elaborately decorated altar and reredos" (Macken and Metlitski 5). Famous for its carillon of 47 bells, the largest both in Ireland and Britain and played regularly, it also it stands as a symbol of burgeoning national pride, and has tremendous spiritual and sentimental value as the last landmark seen by Irish emigrants setting sail from Cobh (earlier Queenstown) for the New World. In recent times, as "the only Irish Catholic Victorian cathedral to remain unchanged by liturgical agitation of the last thirty years" (Williams 74), it has posed special problems for the restorers, producing bitter controversy, especially with regard to proposals to extend the sanctuary.
E. W. Pugin's work has, perhaps, been rather unfairly overshadowed by his father's fame. Another remarkable church by Pugin and Ashlin, a landmark in its own way, is the St John the Baptist and St Augustine Church in Dublin.
Other Views
References
Hill, Rosemary. God's Architect: Pugin and the Building of Romantic Britain. London: Penguin, 2007.
Macken, Niall, and Jessie Castle Metlitski. St Colman's Church, Cobh: A Heritage Impact Study and Review of Planning Application. Available here. Viewed 23 July 2009.
Williams, Jeremy. A Companion Guide to Architecture in Ireland, 1837-1921. Dublin: Irish Academic Press, 1994.
---
Last modified 23 July 2009