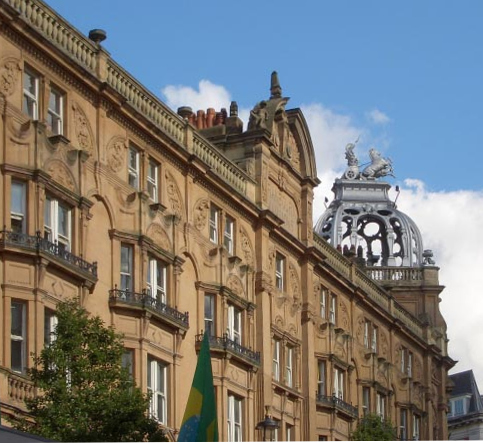 The London Hippodrome designed by Frank Matcham. 1900. Photograph and text 2006 by Jacqueline Banerjee This image may be used without prior permission for any scholarly or educational purpose.
Frank Matcham designed the Hippodrome as a music-hall and circus combined, complete with water tank for aquatic displays. Perhaps in an attempt to revive the tremendous spectaculars at Astley's Ampitheatre, its purpose was "to provide 'a circus show second to none in the world, combined with elaborate stage spectacles impossible in any other theatre'" (Weinreb 212). It later became a venue for variety shows and musicals, with seats for 1,340 people, continuing in use as a cabaret, then a nightclub, and now an "event space." If a proposed refurbishment goes ahead, the foyer's original mosaic flooring and other interior details will be uncovered, and it will again be used for live performances. [Another View]
References
Weinreb, Ben, and Christopher Hibbert. The London Encyclopaedia. London: Macmillan, rev. ed. 1992.
"The London Hippodrome." Wikipedia. Viewed 24 October 2006.
"London Hippodrome." Save London's Theatres Campaign. Viewed 24 October 2006.
---
Last modified 24 October 2006