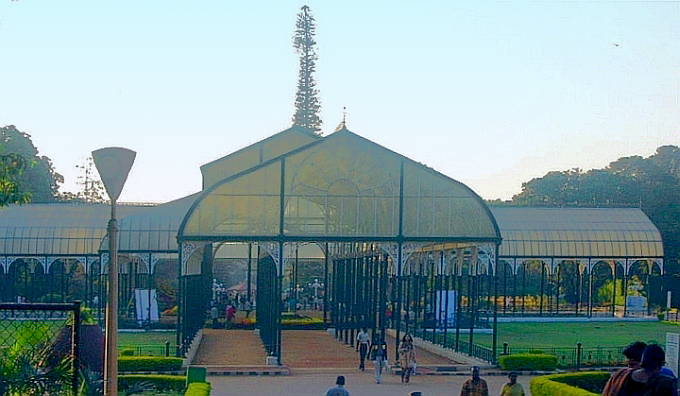 The Glass House, Lal Bagh Botanical Gardens, Bangalore, India.. Proposed by John Cameron, Superintendent of the Botanical Gardens since 1874. Designed and constructed 1889 by William MacFarlane & Co., Glasgow, and restored in 2004. Built to commemorate the visit to Bangalore of Prince Albert Victor, grandson of Queen Victoria, who laid the foundation stone. It was inspired by the Crystal Palace, although the layout has since been altered. Nicknamed "The Jewel of the Garden City," the Glass House is used for flower shows and is a popular tourist attraction.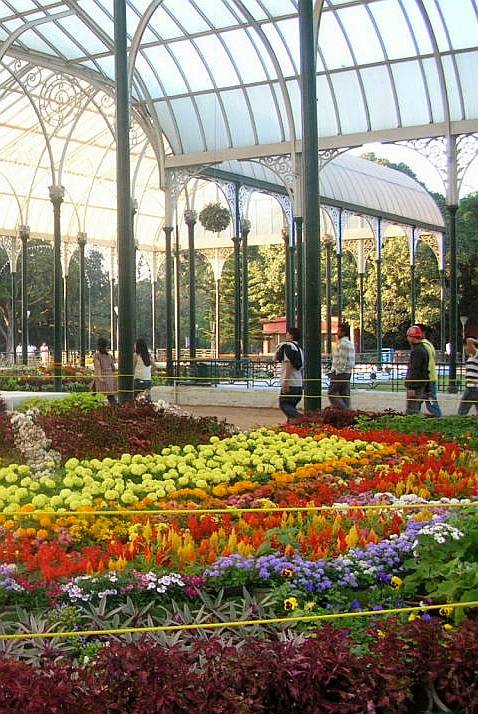 Interior view
The gardens themselves are not just another city park. With good reason, Edward Lear called them the "Kew of India." The association with Kew started with the first superintendent, William New, who was recommended by the then Director of Kew, William Hooker. New went out in 1858, and established nurseries and greenhouses that can still be seen today, as can the cottage he built for himself — which now houses the Lal Bagh Library. New was followed by others who had either trained or worked at Kew, with John Cameron, affectionately known as the area's "Father of Horticulture," arriving in 1874. During Cameron's time, Lal Bagh grew from 40 to nearly 100 acres (Iyer).
Photographs and information from the commemorative stone in the Botanical Gardens kindly provided by Ipshita Banerji. Text by Jacqueline Banerjee. [You may use the images without prior permission for any scholarly or educational purpose as long as you (1) credit the photographer and (2) link your document to this URL or cite it in a print document.]
References
Bowe, Patrick. "Lal Bagh — The Botanical Garden of Bangalore and Its Kew-Trained Gardeners." Architecturez South Asia (excerpt from Bowe's article in Garden History 40 [2012]: 228-238). Web. 28 September 2017. Note: This information first came via Twitter, from the @Smartiesproject, the UK-India Joint Network on Sustainable Cities & Rapid Urbanisation. Thank you!
Iyer, Meera. "Bangalore's Rock-Solid Lung Space." Decan Herald, 8 June 2010. Web. Viewed 20 August 2010.
---
Last modified 28 September 2017