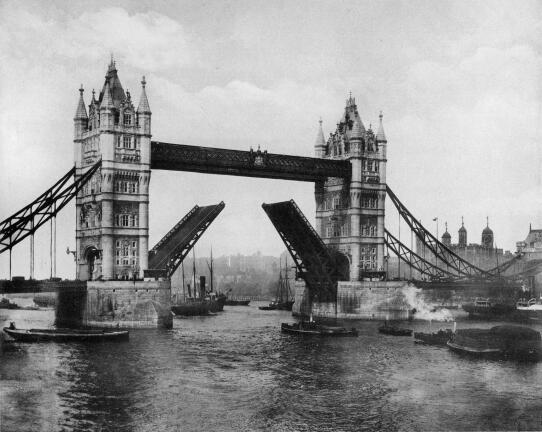 Tower Bridge
Sir Horace Jones and Sir John Wolfe Barry
1886-1894
London
Image and text scanned by Nathalie Chevalier.
This image may be used without prior permission for any scholarly or educational purpose.
Built by the Corporation in 1886-1894, was designed by Sir Horace Jones and Sir John Wolfe Barry, comprises a permanent footway, 142 feet above high water level, which is reached by means of lifts and stairs in the supporting towers.
The carriage way is about 29 feet above high water, the central span of which is 200 feet long, and is fitted with twin bascules or drawbridges which can be raised in one minute and a half for the passage of larger vessels. The substantial framework of the brige, including the central towers which are cased in stone, is of steel.
The annual cost of maintenance is £14,000, and about 25,000 pedestrians cross the Tower Bridge daily [text accompanying photograph].
Additional photographs of Tower Bridge and information about its constriction
Bibliography
The volume containing these images by an unidentified photographer bears the imprint "With H. and C. F. Feist's compliments" but no name, date, or place of publication, though the Feists were dealers in port wine, and Plate 30 demonstrates that the photograph must have been taken after 1902, and John R. Mendel offers evidence that it dates before mid-1906 [GPL].
---

Victorian
Web

Archi-
tecture

London

Contents

Next
22 February 2012