Image courtesy Peter Hall & Son, who have restored "some historically important furniture at Blackwell, the Arts and Crafts house on Lake Windermere, which the Lakeland Arts Trust administers." Text by Jacqueline Banerjee.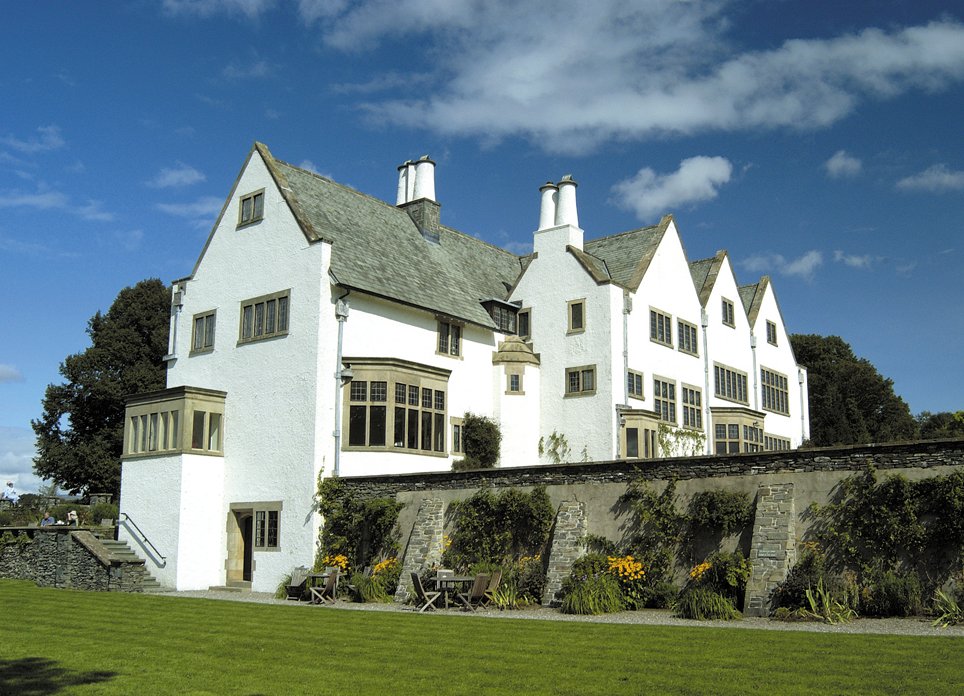 Blackwell designed by Mackay Hugh Baillie Scott. (1865-1945). 1898-1900. Painted rough-cast walls with ashlar sandstone dressings and a Westmoreland slate roof (see listing text for more details). Bowness-on-Windermere, Cumbria. Built as a holiday home for the rich Manchester brewer Sir Edward Holt (1849-1928), Blackwell has sweeping views across to the Coniston Fells, and is one of the most important Arts and Crafts houses in the country. Apart from its design, one important reason is that its original decorative elements, such as fireplace tiles by William de Morgan, still remain in situ — despite the fact that the house has seen service at different times as a school and offices.
The most spectacular design features are the airy, light-filled White Drawing Room to which the ground floor opens out, and the magnificent "living hall" upstairs, complete with minstrels' gallery. But the greatest impression is probably made simply by the organic feel of the house, with its stylised natural references throughout, in wood-carving, plaster-work, wall-coverings, stained-glass windows with flower-patterning, metalwork and so on.
Now open to the public, and used for gallery space, Blackwell also houses many beautiful items of furniture, metalwork, pottery and other artwork by major Arts and Crafts exponents of the time. Both inside, and outside in the lovely terraced gardens, the visitor feels worlds away from the crowds and pollution of modern city life, and that was exactly what was originally intended.
Sources
Blackwell: The Arts and Crafts House. 2006. Pamphlet available at the house (see also the website of the same title.
"Blackwell School, Windermere, Cumbria." British Listed Buildings. Web. 14 May 2013.
---
Last modified 19 May 2013